THE GELATO BAR
Isoteket is an organic gelato bar. We are located on the cosy Bopa Plads right in the heart of Østerbro. We produce no-compromise and intense gelato of the very best quality. New flavours, 100% organic, the best ingredients, and full of passion.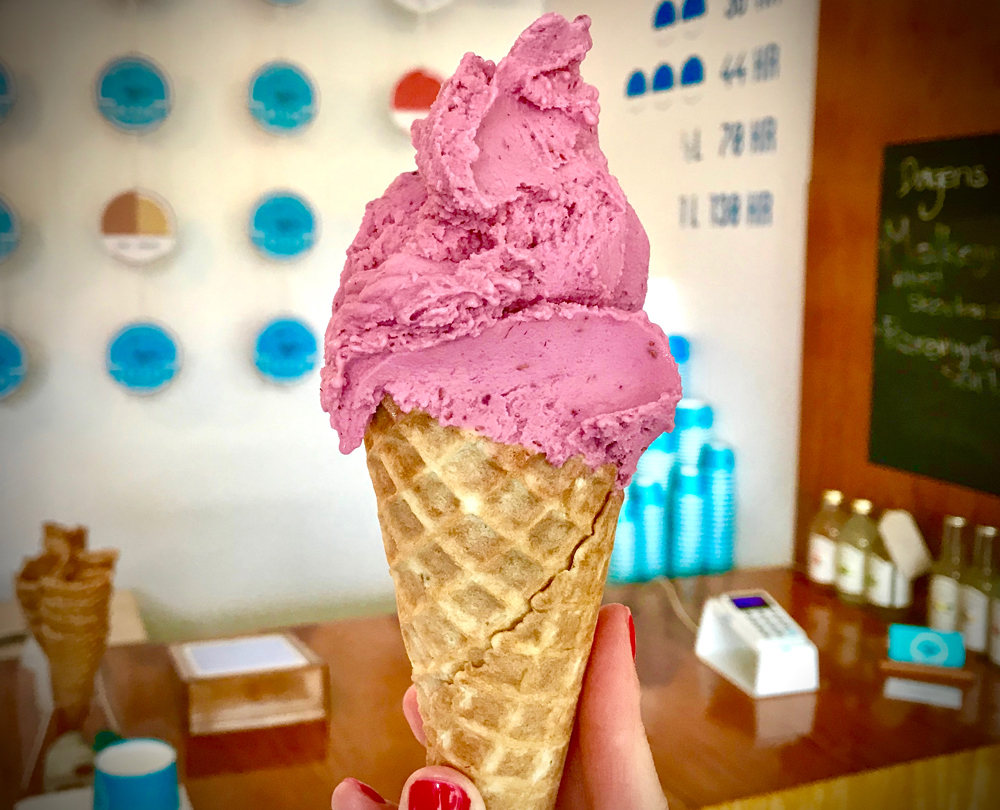 SELECTION
Our ice cream creator has attended the gelato university in Bologna, so our approach is to create traditional Italian gelato. But our flavours are different. Isoteket only serves gelato made from our own and unique recipes.
Our ice cream is fresh, fresh, fresh! It is produced continuously throughout the day. And because of this, the selection changes during the day.
PRICES
1 scoop 30 DKK
2 scoops 44 DKK
3 scoops 56 DKK
½ litre 80 DKK
1 litre 135 DKK
Some of the flavours we often produce:
Hazelnut and bergamot
Lemon ice cream with poppy seeds
Cinnamon ice cream with a caramel sauce
Coffee ice cream with lemon grass
Coconut and hibiscus
Chocolate
Passion fruit with vanilla
Milk ice cream with a caramel sauce and hazel nuts
Raspberry with vanilla
Beetroot, lime and star anise
Coconut and lime
Blackberry and lime (sorbet)
Pineapple and mint (sorbet)
Strawberry (sorbet)
Pear and ginger (sorbet)
Mango (sorbet)
OUR PHILOSOPHY
Isoteket's ice cream is produced using the best organic whole milk, cream, sugar, fruits, herbs, vegetables, and spices. No preservatives, flavour additives, food colourings, concentrates, citric acid, or the likes. In other words, our ice cream is freshly made from scratch, with a focus on the highest quality. No compromises, shortcuts, or cheating. It is simple. It is honest. And most of all, it is delicious.
We believe in originality. Otherwise, you may as well not do it at all. So, most of our ice cream won't be found elsewhere. We keep going until the ice cream alchemy works. But at the same time, our ice cream isn't different just to be different. The combination of ingredients must all come together to truly stand out, so that the result – like with a delicious dinner dish – becomes more than just the sum of its parts. The flavour is suddenly three-dimensional. When poppy seeds are added to a whole milk-based lemon ice cream, something truly happens. Or bergamot juice and peel in a classic hazelnut gelato – pure magic! The combination of condensed beetroot juice, lime and star anise is not to everyone's taste, but we think it is intense and wildly inciting.
We have also done away with toppings, sprinkles, cones, and other types of ice cream bling. We cut straight to the bone in what it is all about: the perfect ice cream.
At Isoteket, we take organics and sustainability extremely seriously. Almost all of our ingredients are organic, and we are constantly working on becoming more sustainable. We use organic base ingredients, such as whole milk, whipping cream, and sugar, as well as fruits and berries, and flavourings, such as lemon grass, cinnamon, and star anise. Our only exemption from organic ingredients is, at the moment, mango and passion fruit, where we use fruit purée from Boiron for the sake of quality, as well as a small amount of dextrose powder.
This is why we have started using natural grass milk from Tude Ådal – probably the best tasting and most sustainable milk in Denmark. The natural grass milk is produced by cows living off grass, hay, and herbs from protected meadows in Tude Ådal close to the Viking castle Trelleborg. The cows are only fed what is natural to them – so no ensilage, corn, or soy – and live off nature's ingredients that surround the farm.
The cows produce less milk per cow, but they produce milk with a better nutritional composition of fatty acids than conventional and organic milk. At the same time, the cows live just a few hundred metres from the farm dairy. So the journey from cow to dairy is short. Last, but not least, the natural nutrition of the cows means that they fart a lot less, thus letting out less methane gas, than regular dairy cows. This reduces contribution to global warming significantly.
WHAT THEY SAY ABOUT US
Highlighted in The Guardian as one of Europe's 20 best ice cream shops
"One of the world's best ice cream bars"
National newspaper Børsen
Test winner in national newspaper Berlingske ★★★★★★:
"World-class ice cream" … "perhaps the best ice cream bar in the country"
"Maybe the best ice cream I have ever had in Denmark!"
Top chef Louisa Lorang on Instagram
"Ice cream miracle" ... "Isoteket serves simple, brave, and incredibly successful ice cream," wrote national newspaper Politiken in their review – and gave us 5 BIG  ♥︎♥︎♥︎♥︎♥︎
"D-E-L-I-C-I-O-U-S. Fresh, full-bodied, and creamy. Like being in Bologna. On Bopa Plads"
5 out of 5 stars from food blogger Marlene Brix
Winner of "best flavour", "best texture", as well as "X factor" from the ice cream panel "Isperterne", when they tested the best ice cream parlours of Copenhagen
ADDRESS & OPENING HOURS
CLOSED FOR THE SEASON - SEE YOU ALL IN 2023!
Isoteket
Sortedam Dossering 11
2200 CPH N
&
Bopa Plads
2100 CPH Ø
we are open all days of the week from 12 noon to 10pm (from 2pm at Sortedam in weekdays).
&
Isoteket mobile
At your next event 🙂
We live, breathe, eat, and sleep ice cream.